Financing Your Automotive Equipment Has Never Been Easier
Financing your auto shop equipment purchase has never been easier with our very brief and simple application. And most customers are approved very quickly. Our financing partners not only offer extremely competitive rates, but can also get lower credit score customers approved where others cannot. So whether you're just buying just a single car lift, or outfitting an entire 6 bay garage, we can set you up. Qualifying applicants can get programs with no payments for 90 days, or even 0% interest programs for up to 12 months as well.
We have several options for financing, including 0% interest options. Just click on the banner below to view more details about the popular 6 months, 0 % interest program through PayPal Credit -

For business customers, just check out these finer points of financing below, and then click on the link to fill out our brief application below.


Financing Options - (for Qualified Applicants) -
Bad Credit
No Credit
Bill Me Later
0 % Programs For Up To 12 Months
No Payments For 90 Days
Business Financing
Individual / Personal
Approval in Minutes
Call Us For Details On Each Option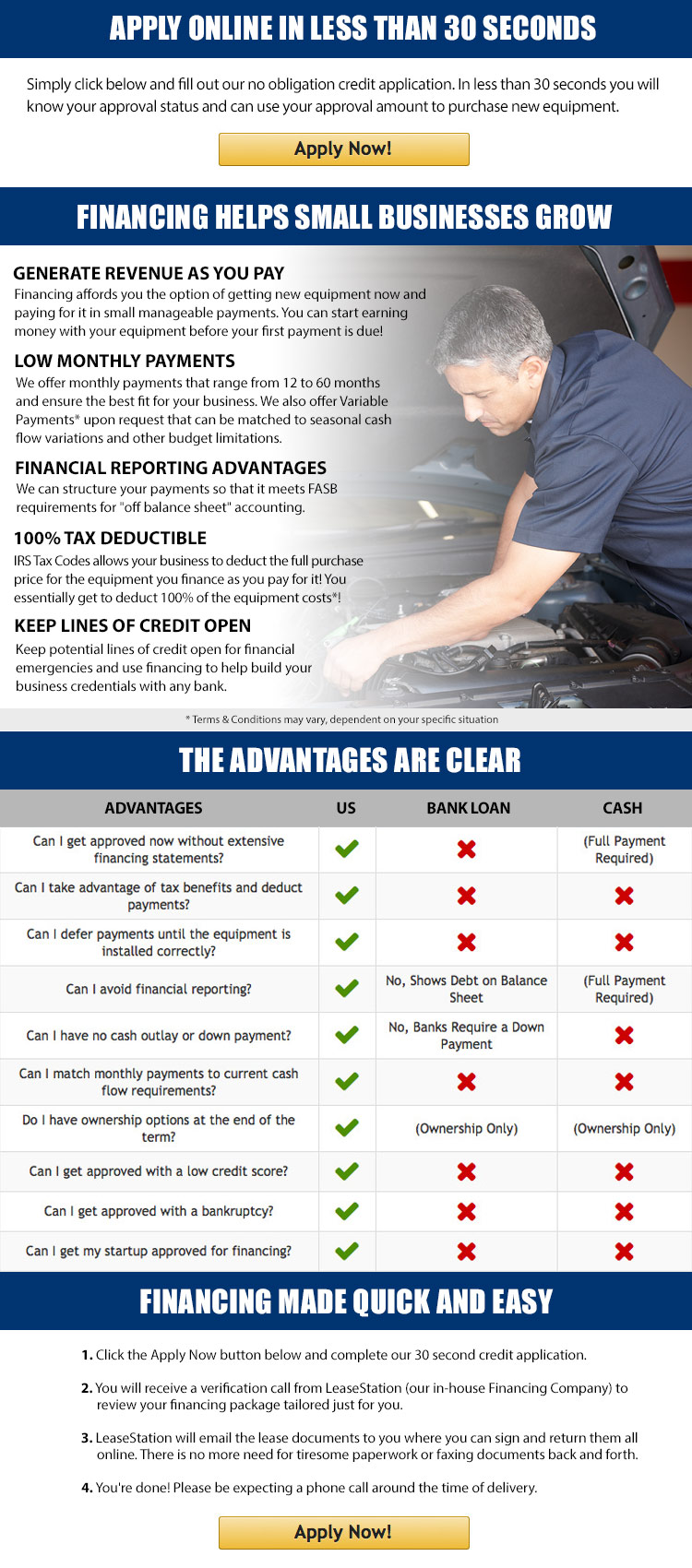 "Thanks again for all your help with the lift. It's perfect."
Dennis Villani
Cedar Knolls, NJ

This particular auto lift is not just for professional auto shops. Many people get this for use in their own personal garage. It is ideal for servicing the typical passenger car, SUV and light truck. It is very versatile, due to it's frame engaging arms that can reach a wide variety of vehicle frame jacking points. And the best part? - It's completely portable. You can roll it around the garage to wherever you need it. And when it's not in use, you can just park over it, and you would hardly even know it's there. We know you've seen other scissor lifts out there that look very similar. But there are significant differences. Give us a call, and we'll gladly explain them to you. We have over 20 years in the automotive shop equipment industry, and we will steer you right.
Dennis Villani