Financing Your Automotive Equipment Has Never Been Easier
Financing your auto shop equipment purchase has never been easier with our very brief and simple application. And most customers are approved very quickly. Our financing partners not only offer extremely competitive rates, but can also get lower credit score customers approved where others cannot. So whether you're just buying just a single car lift, or outfitting an entire 6 bay garage, we can set you up. Qualifying applicants can get programs with no payments for 90 days, or even 0% interest programs for up to 6 months as well.
We have several options for financing, including 0% interest options. Just click on the banner below to view more details about the popular 6 months, 0 % interest program through PayPal Credit -

For business customers, just check out these finer points of financing below, and then click on the link to fill out our brief application below.


Financing Options - (for Qualified Applicants) -
Bad Credit
No Credit
Bill Me Later
0 % Programs For Up To 12 Months
No Payments For 90 Days
Business Financing
Individual / Personal
Approval in Minutes
Call Us For Details On Each Option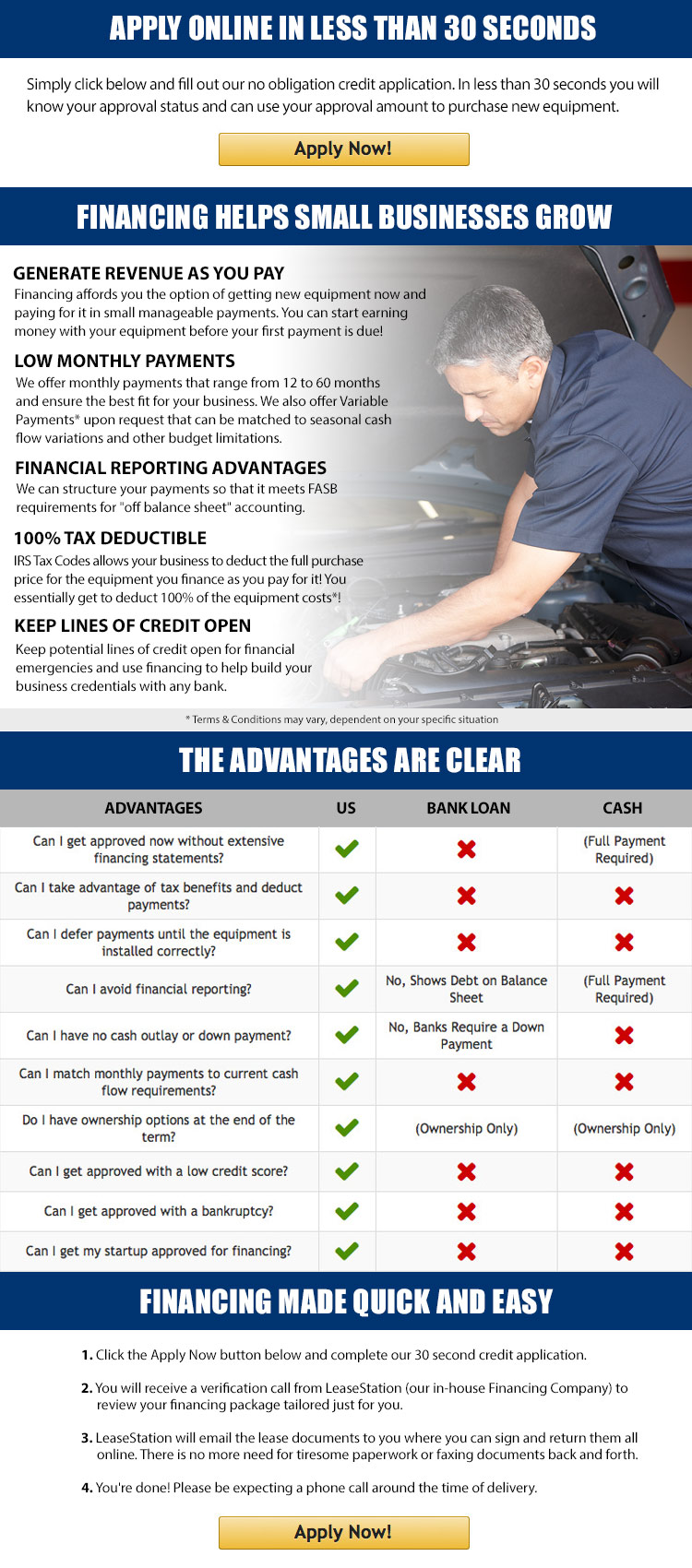 "Here are some pictures of the lift installed and in use, constructed, moved and I've placed the lift in use. It took me and my sons about 5 hours to construct. I have wanted to have something that I can work on vehicles in a raised position and store a project vehicle for years and this lift is great for those uses. Thanks Again for all your help."

Our Workhorse 4 post lifts are an affordable option for the car buff, yet maintain significant safety and quality standards above most typical home hobbyist models. You can definitely find cheaper models on the market these days. We purposely avoid them due to their unreliability. Our ideology is - if a customer is dissatisfied with the product, odds are, they won't come back to us, no matter how affordable it was. Let the other guys sell those "economy" hoists. We'll stick to quality.
Ron Kelly
Browns Valley, CA