Financing Your Automotive Equipment Has Never Been Easier
Financing your auto shop equipment purchase has never been easier with our very brief and simple application. And most customers are approved very quickly. Our financing partners not only offer extremely competitive rates, but can also get lower credit score customers approved where others cannot. So whether you're just buying just a single car lift, or outfitting an entire 6 bay garage, we can set you up. Qualifying applicants can get programs with no payments for 90 days, or even 0% interest programs for up to 12 months as well.
We have several options for financing, including 0% interest options. Just click on the banner below to view more details about the popular 6 months, 0 % interest program through PayPal Credit -

For business customers, just check out these finer points of financing below, and then click on the link to fill out our brief application below.


Financing Options - (for Qualified Applicants) -
Bad Credit
No Credit
Bill Me Later
0 % Programs For Up To 12 Months
No Payments For 90 Days
Business Financing
Individual / Personal
Approval in Minutes
Call Us For Details On Each Option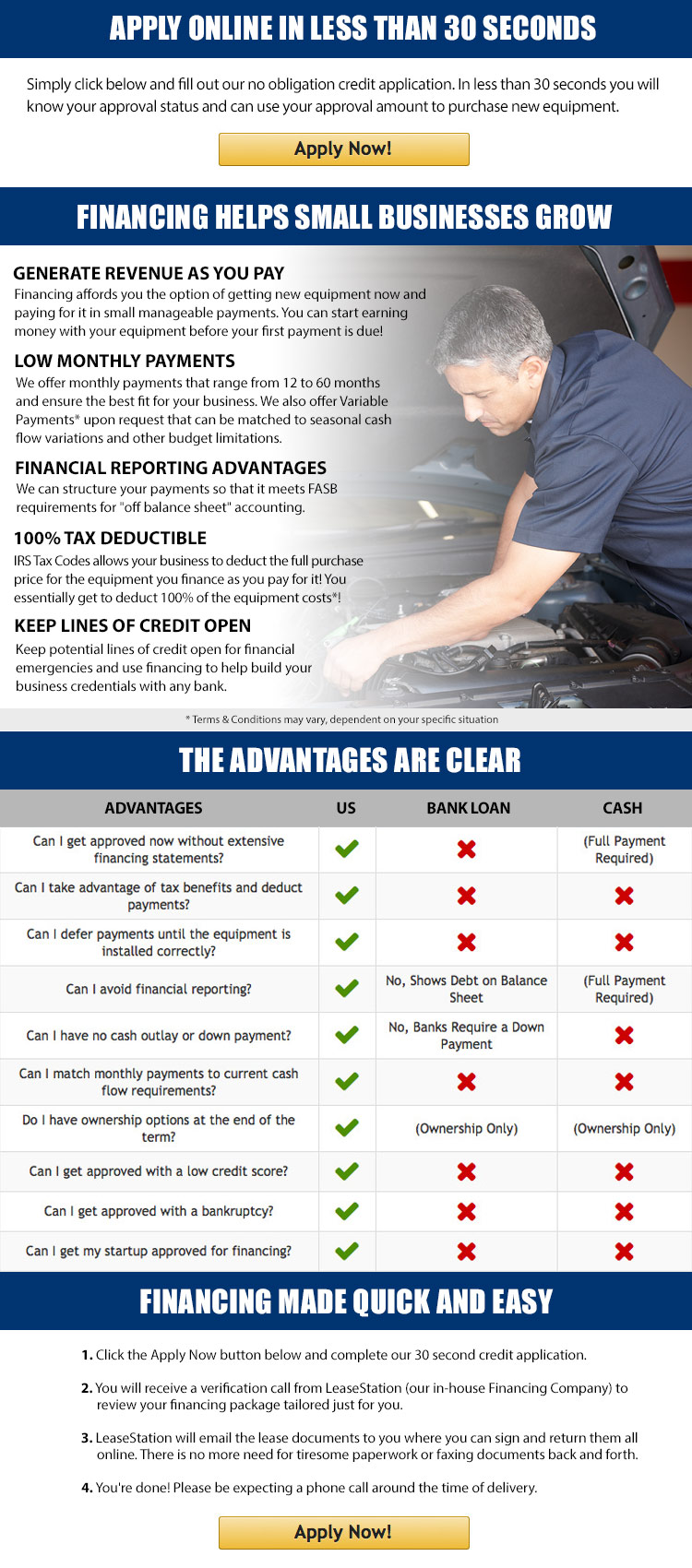 "I purchased several BendPak four post lifts from ASEdeals.com over the past several years along with other items, including a great Ranger brake lathe. ASE has been great with support also. Whenever we need anything, they're right there to help."

Just another long term happy loyal customer. They have purchased numerous products from us over the years, including a couple of Bend Pak four post lifts, as well as a Ranger combination brake lathe. The lifts are a mainstay in any auto shop. No garage would be complete without one. Many shop owners don't want to spend the money to become a complete brake shop, but it can be a lucrative endeavor that will pay off within a short time frame. Most auto shops farm out turning drums and rotors to other shops that have these machines. Why add a middleman and leave money on the table? Take charge of your future and become a full service automotive shop.
Alfredo Saldierna
Saldierna Muffliers