Financing Your Automotive Equipment Has Never Been Easier
Financing your auto shop equipment purchase has never been easier with our very brief and simple application. And most customers are approved very quickly. Our financing partners not only offer extremely competitive rates, but can also get lower credit score customers approved where others cannot. So whether you're just buying just a single car lift, or outfitting an entire 6 bay garage, we can set you up. Qualifying applicants can get programs with no payments for 90 days, or even 0% interest programs for up to 12 months as well.
This financing application shown below is for businesses only. For financing for individuals for personal use, please contact us. We have several options for personal financing, including 0% interest options.
For business customers, just check out these finer points of financing below, and then click on the link to fill out our brief application below.
Financing Options - (for Qualified Applicants) -
Bad Credit
No Credit
Bill Me Later
0 % Programs For Up To 12 Months
No Payments For 90 Days
Business Financing
Individual / Personal
Approval in Minutes
Call Us For Details On Each Option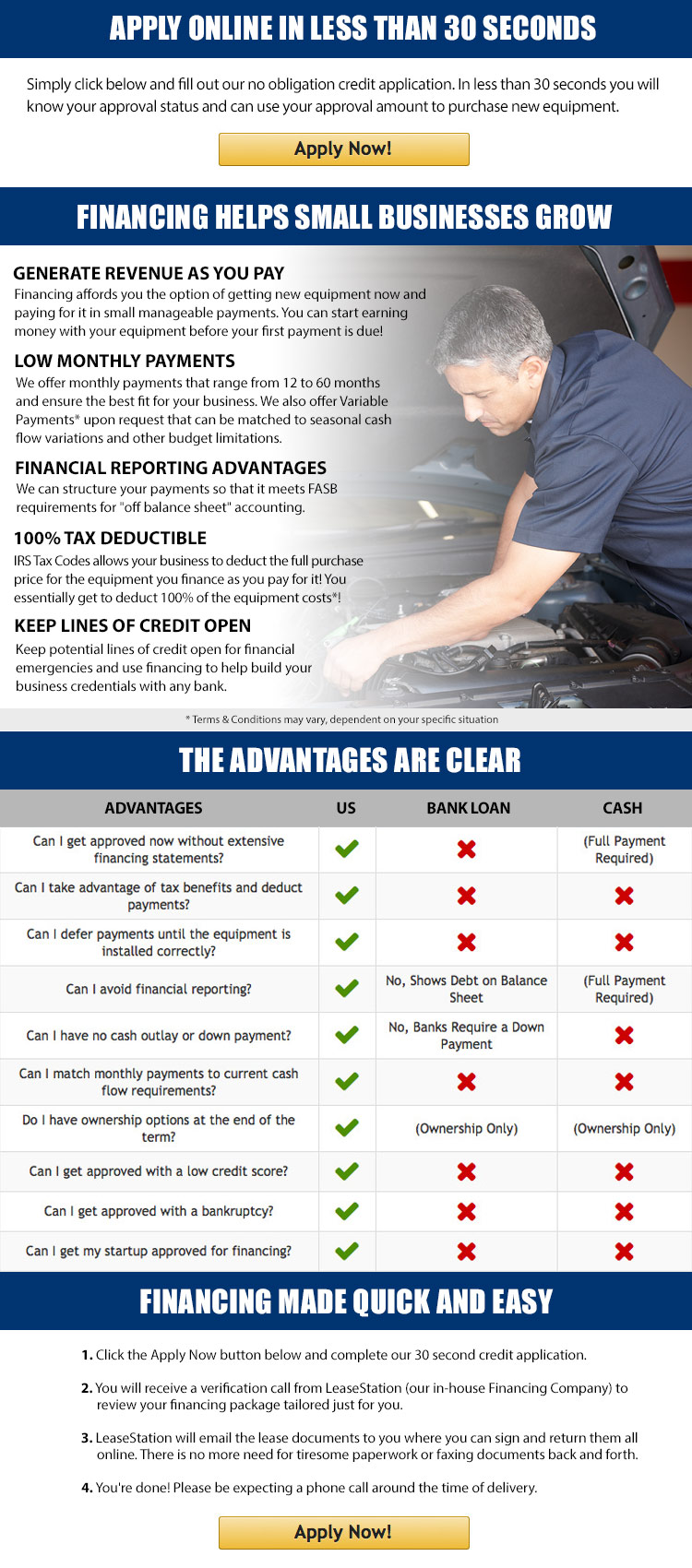 "I'm a construction engineer and I know a good product when I see one. The XP10 car lift we purchased is an exceptional lift and really stands up to our abuse. Your service has been excellent and we are extremely satisfied with every aspect of doing business with your company."

This kind of testimonial carries a little more clout coming from a someone who knows what quality engineering is. It helps reiterate what we already knew. That Bend Pak 2 post lifts are designed by experts who pay attention to detail. We get positive feedback on their products all the time, but when somebody who engineers things provides positive feedback, you can't go wrong. If it's good enough for a construction engineer, it should be good enough for your garage.
Jim McConnell
Cedar City, UT