Financing Your Automotive Equipment Has Never Been Easier
Financing your auto shop equipment purchase has never been easier with our very brief and simple application. And most customers are approved very quickly. Our financing partners not only offer extremely competitive rates, but can also get lower credit score customers approved where others cannot. So whether you're just buying just a single car lift, or outfitting an entire 6 bay garage, we can set you up. Qualifying applicants can get programs with no payments for 90 days, or even 0% interest programs for up to 6 months as well.
We have several options for financing, including 0% interest options. Just click on the banner below to view more details about the popular 6 months, 0 % interest program through PayPal Credit -

For business customers, just check out these finer points of financing below, and then click on the link to fill out our brief application below.


Financing Options - (for Qualified Applicants) -
Bad Credit
No Credit
Bill Me Later
0 % Programs For Up To 12 Months
No Payments For 90 Days
Business Financing
Individual / Personal
Approval in Minutes
Call Us For Details On Each Option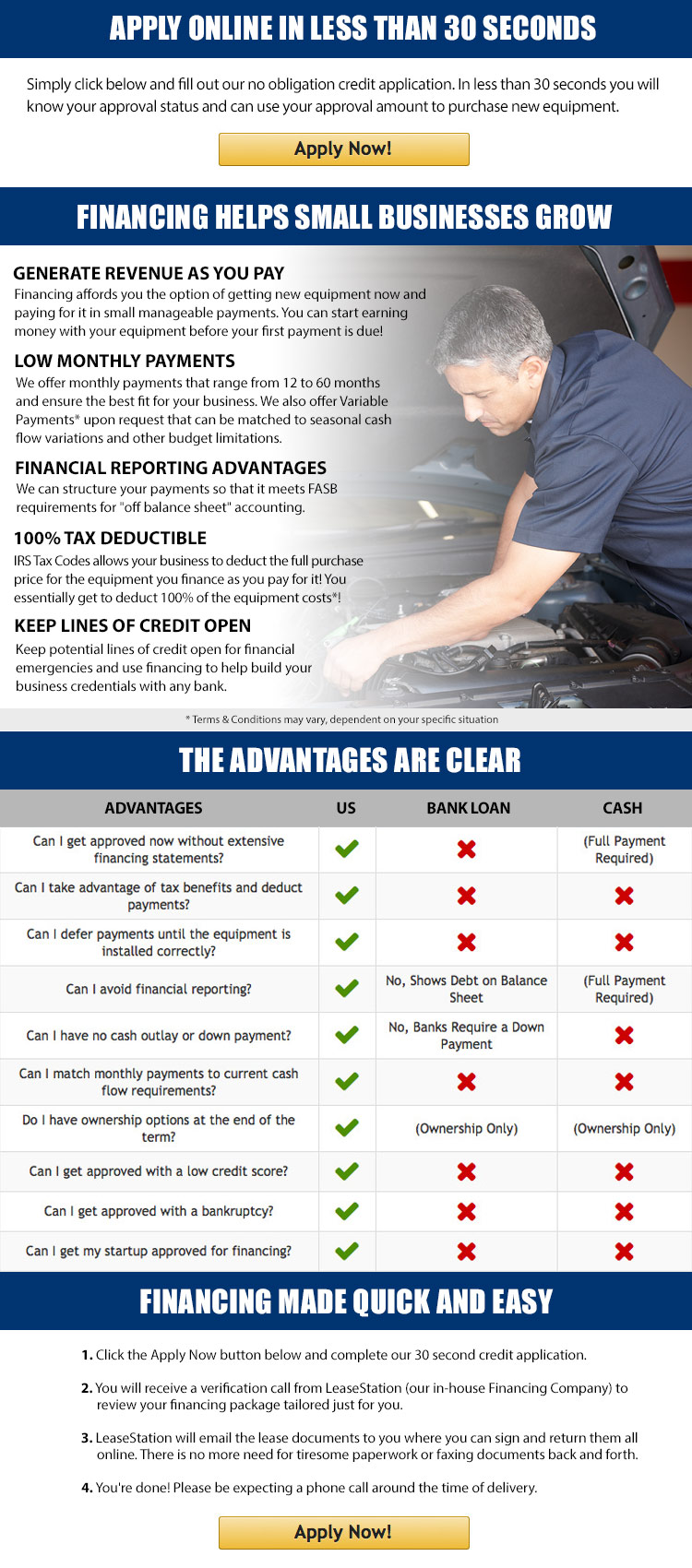 "I brought the lift home from the freight carrier's terminal on my trailer as you can see in the photo. It easily fits under my ceiling and clears my garage door. That trailer used to be a menace to my shins whenever I needed to get to something out of storage on the adjacent wall. No more! Now I can park a car there and get to storage. Everyone who sees it is surprised how reasonably priced you have them.

Considering a 10' X 20' garage around here is running at least $50 per square foot, I look at it as a $10,000 savings, not to mention that now, I'm even looking forward to working on my cars. I'm sure I'll have a few friends and neighbors giving you a call."

As you can see, the lift is packaged in such a way, that you can pick it up at the freight carrier's terminal with your trailer. They will load it onto your trailer at no charge. Then, once it is back home with you, just un-package it, and remove it piece by piece.
John Bennett
Ocala, FL