ArchivesJanuary, 2011 | Car Lift Blog
January 31st, 2011
Part 1 of a three part series.
We love it when manufacturers come out with new products. One manufacturer who probably comes out with more new products than any other manufacturer we carry is BendPak / Ranger. They are always on the cutting edge of innovation. Plus, they have one of the widest varieties of product lines that we've ever seen. They manufacture everything from Automotive Lifts and truck lifts under their BendPak line, to tire changers, floor jacks and spray wash cabinets under their Ranger Products line.
Here are some recently announced new products that are scheduled for release in April –
 The HD-9AE alignment lift.
This is a 9,000 lb. four-post lifting and alignment system. BendPak saw a demand out on the market for a 9,000 lb. alignment lift for those shops that specialize in smaller vehicles, and don't want a large, full featured car and truck alignment lift. Where this comes in particularly handy is allowing you to drive up smaller, low profile cars that might bottom out on a full sized, 14,000 lb alignment lift. It is a full featured lift in a nice, compact package, which means it's a great space saver for those garages that are tight on space. It also helps that it is less expensive than the full sized lift. This Car Lift is a great idea!
January 29th, 2011
All accounts of the recent
Barrett – Jackson
Classic Car / Collector Car auction from January 17 – 23 was a huge success. High end cars received premium bids, and mid range cars also did quite well. Sales were reported to be up over 10 % from last year, with total sales topping $70 million.
This was Barrett Jackson's 40th anniversary, so it was a special event.
You could watch the highlights unfold live on cable TV if you wished. This not only makes for interesting TV, but it also serves as a primer course on what to expect if you plan on selling, buying or just attending the event in the future.
Many celebrities and athletes were there, including Richard Petty, Randy Johnson, Brett Michaels, Tim Allen, Valleri Bertinelli and many more.
One of the more notable sales was the 1963 Pontiac Bonneville "JFK ambulance", which sold for $132,000. This was the vehicle that carried JFK's body to the hospital.
Barrett – Jackson recently purchased our Solar 2001 and 3001 Wheeled Automotive Jump Starters from us in late 2010. These are premium automotive wheeled jump start units that are manufactured by the best company in the business – Clore Automotive. All components are premium quality, and with features that are meant for longevity. If these automotive jump start units are good enough for Barrett Jackson, they should be good enough for your shop.
January 27th, 2011
The latest customer picture and testimonial to come in is from Joe Raymond from LTM Auto Repair out of Pontiac, MI. They purchased a BendPak Lift from us years ago, and when they were in the market for a new automotive lift recently, there was no question what they were going to get. The P6-F Pit Lift by BendPak is perfect for lube shops that have a pit for the technician to climb down into and quickly change the oil. These car lifts are also perfect for tire rotations and brake work. This customer purchased the flush mount model. You would need to create a recess in your floor to make the lift flush with the surface of the floor. Bend Pak also has a model that mounts on top of the floor that makes installing much easier.
There's no better testimonial for a product or a company's reputation that a customer that comes back for more.
Here's what Joe had to say about the lift –
"The P6-F Pit Lifts have been a very useful tool for us for 11 years now. We haven't had any trouble with the lifts other than regular wear and tear. That's why we just purchased another one. Thanks for everything".
January 26th, 2011
At first glance, many politicians think it's a simple equation. Need more Revenue? Just raise taxes. One of the first targets is businesses. It's easy to paint businesses as the greedy, evil robber barons of the late 19th and early 20th century. And it's also easy to get a bunch of unemployed constituents worked up over a multi-billion dollar corporation that's bringing in record profits when most of middle America is struggling to keep it's head above water. it's tempting to jump in head first to the "Raise Taxes" pool.
But there are serious side effects to raising taxes on any group or entity. Actions like that can actually have the opposite effect than what is intended.
In a static environment, the formula of raising taxes makes perfect economic  sense. Raise taxes by a certain percent, and see an equal, commensurate increase in revenues. It's not quite that simple. We don't live in a vacuum. It's a dynamic economy. Economic activity suffers when tax rates are raised. When a business has less capital to spend on equipment and growing, it stifles expansion. Businesses don't grow, they don't hire new employees, or worse yet, they lay off employees. They don't purchase new equipment they were planning on purchasing. The local automotive garage puts off the purchase of the new Automotive Lift they were planning on purchasing.
Canada recently lowered their corporate tax rate from 18.5% to  to 16.5%. They were already lower than our rate here in the USA by a large margin. In the USA, our rate is over 35%. We are on the high end among the major industrialized countries. While the fastest growing economies in the world are cutting tax rates, the USA is raising rates. Canada has received glowing predictions of it's economic future from major economists and such business publications as the Wall Street Journal and Washington Times.  History shows that raising rates can only harm economic activity. Lowering tax rates in the past has actually shown time and time again that tax revenues actually increase due to energized economic activity.
What do you think? Do you have any thoughts or examples to share?
January 25th, 2011
This is part 3 of a three part series –
Switch over to an aqueous Parts Washer. It's about time. Those old solvent based parts washers use hazardous petroleum based solvents and detergents that are at least somewhat hazardous, and in many cases, very hazardous. At the very least, it's not good to have it in contact with your skin on a regular basis, as this has the potential to have long term health effects. Worst case scenario is fire. These hydrocarbon based cleaning agents are very flammable. Most have a flash point of around 135 to 145 degrees. Modern aqueous parts washers are completely safe, as the detergent has no properties or ingredients listed as hazardous. They can also clean just as effectively as solvent based parts washers too, provided you use a good detergent concentrate, and the parts washers has a heating element. Heat must be added to the equation when using a water based detergent in order to clean at it's peak potential.
Help prevent avoidable back injuries. This is one of the most common issues. One way to help is to get a pneumatic wheel lifter. If your employees don't have to stoop down and lift heavy 145 lb. wheel, and then place it on the Tire Changer, they are a lot less likely to file for worker's compensation.
Of course there are many other safety practices and safety equipment that you can purchase. Eye protection, and proper breathing apparatus is always important. Keep employees trained on all the latest technological advances as well. For instance, when air bags first became prominent, many techs didn't know that they could still deploy even after an accident. This can be a hazard when you're working on a wrecked car and it suddenly slaps you in the face or chest when your working on the car. Always disconnect the battery to prevent unintentional airbag deployment.
Let us know of any other safety practices or equipment we may have missed. This is a good forum to showcase this important and helpful type of information.
January 24th, 2011
This is part two of a three part series –
Many auto shop floors are slick, especially when wet. There are various sources for floor covering surfaces that will not only keep your floor safer, but will also help you clean it easier. For a small up-front cost, it can be well worth it to coat your floor with one of these non-skid surfaces. Just one slip can cause all kinds of headaches, not just for the accident victim, but for you as well. Coating your floor with a quality surface can also renovate your shop, and make it look cleaner, neater and more professional. Don't overlook this benefit. Many consumers based their opinions of you and your shop on it's appearance. You may run the best shop, and perform quality work at a reasonable price, but you still may turn them off by your appearance.
Eliminate tripping hazards. So many injuries are cause by a cluttered shop. Keep air and oil hoses out of the way. A great piece of equipment to keep hoses out of the way is one of our spring rewind Air Hose Reels. We carry many different models by different manufacturers. Most come in 50 foot lengths, with a 3/8 inch inside diameter hose. Some are high pressure lines, and some handle more than just air. You can run lubricants through some too.

In the same vein as a long term, chronic health concern, you may want to consider getting an Aqueous Brake Washer. You don't want employees We carry the EcoMaster 1435 by KleenTec. It has a flow through brush that allows the safe, water-based detergent to clean all of the brake dust out from the wheel, eliminating any hazards and safely storing the brake dust in a filter.
Next Post – Part 3
January 23rd, 2011
Part 1 of a three part series –
You may not spend a lot of time thinking about the safety of the workspace in your garage, but you should. There all kinds of statistics that illustrate the number and costs in real monetary terms along with costs in terms of productivity. Chances are, at some point, you will see a case of an injured worker, culminating in a worker's compensation issue, or worst case scenario, a lawsuit against you or your business.
If this has happened to you, you know the frustration and tension it causes. If it hasn't happened to you yet, odds are, it will at some point in your future. But there are things you can do to prevent it, or at least decrease the odds.
Keeping your workspace safe from hazards and accidents is vital not only for your employees health and any other individuals who might enter your shop, it's also important to the health of your business.
Here are some tips on assuring you keep your garage as safe as possible –
Get an Exhaust Vent System. This can eliminate a very immediate and dangerous hazard of carbon monoxide poisoning. But it can also prevent a longer term, potentially debilitating illness, as the long term effects of breathing exhaust fumes is obvious.  We carry two different portable exhaust vent systems. One by RTI, and one by John Dow / Eurovent. Both are top quality and reliable pieces of shop equipment.
Don't get cheap when it comes to an Automotive Lift. Many shop owners looking to save a buck, assume that a lift is a lift is a lift. So they purchase one of those bargain lifts for $1495 and figure it's just as good as a premium quality lift. Nothing could be further from the truth. Get a lift that is ALI Certified. Our Bend Pak Lifts are ALI Certified. Most of their two post lifts and four post lifts are certified by ALI. This means that they meet extremely strict standards for safety and quality. ALI is the premier authority on lift safety and quality. One look at a BendPak lift will show you why they are one of the best names in the lift industry. If you're the one standing under it, you'll grow to appreciate the quality.
Part 2 – Next post
January 22nd, 2011
Dannmar made a Major announcement today about their popular Brigadier line of their two post lifts. As of now, all Dannmar Brigadier D-10 Two Post Lifts are ALI Certified.
This is huge news. When an Automotive Lift is ALI Certified, it means that it meets the most strict standards for safety and quality, and that it was tested in the industry respected ETL testing labs.
We've been carrying the Dannmar car lifts for many years now and we have always known about their high standards for quality and safety, but ALI Certification is a game changer. When a lift is ALI Certified, it lifts the status to a premium lift. Many municipalities, corporations and government agencies who purchase auto lifts won't even consider a lift if it's not ALI Certified. They have a rigorous testing process, which includes a variety of load bearing, hydraulic and electrical standards tests. The lifts will come with the ALI Gold Standard stickers featured prominently on the post.
While it is now considered a premium lift, it still has a very reasonable price. As a matter of fact, we suspect that there probably isn't an ALI Certified two post lift out there that costs less. We haven't checked everywhere, but we doubt one exists. That's pretty impressive.
Lyle Warnagieris, Dannmar Supply Chain Manager said, "The ALI Certification testing takes some time to complete, which is why everybody knows it's so thorough. We always knew that our lifts were safe and dependable, but we're thrilled to have the backing of the Automotive Lift Institute to prove it,"
ALI contracts Interteck Testing Services (ETL), a worldwide testing organization recognized in the US by the Department of Labor and OSHA as a Nationally Recognized Testing Laboratory (NRTL) to fully manage the program in accordance with the Program Procedural Guide.For more information on ALI Safety and Testing, check out the ETL Laboratories web site. For more information about our Dannmar Two Post Lifts, click on the link.
January 21st, 2011
Automobile Accidents can be a stressful event. The last thing you need to worry about after a car accident is fraud perpetrated by unscrupulous repair shops or tow truck drivers.
The NICB (National Insurance Crime Bureau) has recently put out a checklist to help the unwary accident victim from becoming a victim once again to these dishonest predators.
One of the most common occurrences would be a tow truck driver showing up immediately after you've gotten in an accident, without you calling them. They listen to police scanners and jump in their trucks the second they hear of an accident. They'll tell you they work with your insurance company and that they can take care of the repairs without you having to worry about finding a shop to pick it up. The problem is, you don't know anything about these guys.
The NICB warns that, while most shops and tow truck operators are honest and hardworking, there are plenty of nefarious operators out there who are just waiting to take advantage of this type of situation.
Once you've agreed to let them take your car, you can fall prey to all kinds of tricks. They will charge you fees for any and all kinds of things they can think up. Did they store your car in their lot? There's a storage fee. Did they put your car up on an Automotive Lift to inspect it?  Theres an inspection fee. Did they process any paperwork? There's a processing fee. Plus, they will do anything they can to get you to have them perform the service. If they towed your car to their lot, but you want your auto shop to perform the work, they will jack up their fees well beyond what is reasonable and customary.
This happened to me about a year ago after I got in an accident that caused a significant amount of damage to my truck. I had the tow truck driver bring it to his shop, with plans of having him transfer it to a different body shop later. Once he found out he wasn't doing the repairs, he got very angry and jacked up the fees to ridiculous levels. The insurance company said that this was not uncommon and that they would not pay such an unreasonable rate.
The NICB warns that if law enforcement did not call them to the scene, do not use the tow / wrecker company. Use the company the police recommend, or contact your own local shop. Even if it will take longer for them to get out to the scene to pick up your car, it will be worth it in the long run. You don't want to be paying for these rogue operators to outfit their garage with new Automotive Equipment because you were taken advantage of.
What about you? Have you had any similar experiences? Share them with us by commenting below.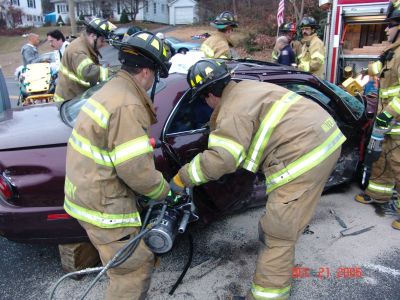 January 20th, 2011
The MaxJax portable Two Post Lift by Dannmar has only been around for a few years, but in that time frame, it has grown a HUGE following. The reason is simple. There's just nothing on the market like it. It was built for the home / hobbyist in mind. It provides you with all of the features of a two post lift, like complete access to the vehicle for service purposes, but does not have to be permanently mounted. It can be easily moved. It also will fit under some extremely low ceiling heights.
It was already one of our biggest selling car lifts, So when we came out with this new sale, it just sent sales skyrocketing. For a limited time, we are offering the MaxJax Two Post Lift at $1939 with free shipping. Then, on top of that, we are also throwing in two free accessories. Get the DO-8 Oil drain, along with the free rolling shop seat. So now there's no reason not to get in on this deal now. We promise you, you will not get a better deal ever again.