ArchivesAutomotive Equipment | Car Lift Blog - Part 2
November 27th, 2011
While Black Friday is traditionally the biggest volume day when it comes to retail sales in traditional brick and mortar store outlets each year, traditionally, the Monday after Thanksgiving day tends to be the busiest day for on-line shoppers. It's called Cyber Monday. The term describes the busiest day for internet sales for the year. Who knows, maybe Webster's Dictionary will soon list it as an official new word. The computer and everything related has added many new words to the English language over the past decade.
Like most retailers, Amazon.com claims that the 4th quarter is the most busy quarter every year. According to the National Retail Federation 44 percent of shoppers made an online purchase last year. Some incentives that on-line stores offer are free shipping and large discounts for Cyber Monday purchases.
The automotive equipment industry is no different. While we do offer traditional outlets for purchases, including catalog and phone based sales, internet sales account for a large portion of our sales, and the percentage has grown every year.
The reasons cited are easy to understand. Making life easier is the main reason given time and time again when internet shoppers are asked why they purchase online instead of heading out to their local malls. You don't have to deal with the traffic and the crowds. Time is money. Many consumers just don't have the necessary time to fight the traffic.
And with modern websites offering close up images, as well as 3D images along with videos and owner's manuals as well as dimensional drawings for many of their products, you can get a pretty clear idea on what the product is all about. We try to top all of those handy shopping aids with one more thing that we feel helps immensely – customer pictures and testimonials. Nothing helps our customers understand the product better than a customer testimonial topped off with a picture or two submitted by the customer. This also aids us in gaining the trust of new customers. If they can see how other customers experiences were, they can establish a pattern. We recommend asking any retailer you're not familiar with for references. Especially with such large ticket items like auto lifts.
With business taking off already from  Cyber Monday, the 4th quarter of 2011 is sure to be the biggest ever for internet sales.
June 3rd, 2011
Many customers who call us never stop to ask us about the warranty of the product they are interested in. They will ask us about the features and specifications along with other factors. Of course the number one question as always is price. Some customers don't seem to care if their Car Lift is made out of popsicle sticks as long as it's cheap. We don't understand that mentality. Especially if you're the one standing under it.
In our eyes, one question that should near the top of the list is, "What's the warranty"? There are many different types of warranties for many different types of automotive equipment. A typical floor jack should have a one year warranty at a minimum. Hopefully, the manufacturer is a reputable one and has service centers across the country and has a vast supply of parts. Many floor jacks these days are not rebuildable. As a rule, we carry only commercial quality products that are rebuildable. When your floor jack starts leaking hydraulic oil, you don't want to have to throw it away when a simple set of $20 seals would make it good as new.
Air Compressors can have warranties that Range from one to five years. Read the warranty carefully. Many times it's five years on the tank, and only one year on all the other components. Some of the larger manufacturers will have service centers nationwide so you can be assured that problems can be taken care of quickly.
Automotive Lifts can have a wide range of differing warranties. A lift warranty can run anywhere from 5 years (limited) to 1 year. Buyers should pay careful attention to the warranty. Does it include on-site service, (parts and labor) or parts only? Also, we've seen some manufacturers and distributors who's warranty requires the customer to pay for shipping charges on any parts that need to be sent out during the warranty period. Who ever heard of such a thing?
The advice to any prospective customers – Ask questions.
May 18th, 2011
The major auto makers from Asia, Europe and US are all currently manufacturing cars specifically for the Chinese market. They are introducing many new cars that cater to the more affordable market. The auto makers want a foothold in this potentially huge market so much that they are willing to take sacrifice intellectual property rights.
These car makers are willing to make these concessions because they see huge potential for this market in the future and are partnering up with some large Chinese companies to produce affordable, low frills cars that meet Chinese consumers needs for a low budget car that offer a basic, entry level car. China consumers are beginning to prosper more than they ever have in the past and are reaping the rewards of a more capitalist society. One of the first things they purchase once they have the funds is an automobile. A car means some degree of independence and the ability to travel for employment or for recreational purposes is becoming more prominent throughout the more populated areas of this growing country.
This could lead to a potentially large increase in the sales of automotive equipment in this large market, such as Car Lifts, Floor Jacks, engine hoists and tire changers.
General Motors is jumping into the market with an affordable vehicle. So are VW, Toyota, Nissan, Honda and most other manufacturers. These cars will not be sold in other countries, at least for now. The Chinese Government has imposed strict rules that require these outside auto makers to follow onerous guidelines in order to be able to sell in the country. This means no proprietary technology. They must share their technology with their Chinese counterparts.
With over a billion in population, one major side effect could be large traffic jams that are prominent in other major cities throughout the USA and other developed nations.
May 13th, 2011
At a time when many major auto manufacturers have made deals with Chinese car manufacturing companies, SAAB has announced that it has severed it's relationship with Chinese manufacturer Hawtai Motor Co. This deal was originally intended to prop up the struggling SAAB, giving them an entry into an untapped, potentially large and lucrative market in one of the world's fastest growing economies, as well as providing some much needed financial backing.
SAAB can now search for other potential partners in this vast economy, but it still is a significant setback in their desire to raise capital to help in their worldwide venture. SAAB was counting on this money to help keep their finances in order, and this setback severely impacts their financial future.
Other major car manufacturers are already in cahoots with other China manufacturers to offer affordable, no frills cars to the vast Asian market. GM and Honda already have deals that offer cars that will not be sold in any other markets other than China for now. This could change at some point in the future as the Chinese market matures and quality rises.
Many Car Lift and automotive equipment manufacturers have also moved much of their manufacturing to China, in an attempt to decrease labor costs to remain competitive. It's a trend that's sure to continue well into the future.
Source: AutoWeek
May 4th, 2011
More good news on the auto maker front. Most major auto manufacturers came out with much improved figures for sales for the month of April. Hyundai was the big winner, with their second best month ever up over 40 percent. Honda was up over 9 % and Nissan up 12%. Most European manufacturers fared well also. VW sales were up 23 percent, while BMW was up 19%. US auto makers did well, with GM sales increasing over 26%, Ford up 16% and Chrysler up 22%. Not all manufacturers performed so well. Some barely squeaked out a gain. Mercedes was only up 2%, while Toyota was the worst performer, at just over 1%.
Part of the reason for the poor performance for Toyota was the earthquake / sunami disaster in Japan. Toyota had to cut production because of the disaster and they expect to continue to struggle for the next few months as well.
Small car sales accounted for the largest percentage increase, with an increase of over 17%. Much of that statistic can be attributed to rising fuel prices. Consumer are predictable. They will buy smaller cars as gas prices rise.
Automotive Equipment manufacturers also saw increased sales. Averaging 15% among the major manufacturers. Auto Lifts and Tire Changers were among the leaders.
Hopefully, these statistics are a sign that we can expect to see continued robust sales for the near future. The figures are so healthy now because of the significantly depressed levels they were the previous year. As time goes on, and monthly sales figures are compared to the more moderate current figures, it will be more and more difficult to show improvement.
April 22nd, 2011
Looking for something to do this weekend? If you are, and you're in the New York area, swing on by the 2011 New York International Auto Show. It will take place from Jacob Javits Center from April 22-May 1. It's always a great event and a source of information for anybody interested in the auto industry. There are all kinds of events and exhibits where you can learn of the latest trends in the industry.
This show was the first and longest running auto show in the industry, first appearing in 1900. There will be many forums, conferences, symposiums and major announcements, and press conferences from the premium car manufacturers. The show offers a view at all the major makes and models, and even some Automotive Equipment.
There will be classic cars on display, an area where you can get your picture taken with one of the Disney cars, autograph signing with race car drivers like Drift Car Racer Ryan Tuerck. Some sports figures will be there too. Many Detroit Lions football players, and NY Mets players like Keith Hernandez will be there signing autographs. Make sure to check out the concept cars. That's our favorite part.
April 20th, 2011
Even Henry Ford would be amazed at the modern vehicle. We've come a long way from the early days, when there were no comforts of the modern car, not even a roof or windshield. But the modern vehicle is still leaps ahead of top of the line cars made just a decade ago.
Due to recent technological advances, we enjoy the most convenient and safest autos ever made.
Sure, there are the traditional anti-lock brakes and air bags that engage from the sides. But there is so much more now. Most of those old systems were intended to protect you in the event of a crash. Now, these new systems are intended to help prevent a crash in the first place.
Some of these new features include steering wheels that shake when the vehicle's monitoring system determines that you may be dozing off. There are cameras in the rear that can provide you with a view of what's behind you when you're backing up. There are some systems that will warn you as you get closer to something as you are backing up. Some systems can detect objects in your blind spot. Some cars even have systems that will help you navigate around obstructions in your path and even stop the vehicle if necessary.
Of course, all of these added features increase the cost of the modern car dramatically. And the government mandating that cars have some of these added features means that we don't have a choice whether or not we want them.
This also adds to the auto shop owner's list of services he can provide. Once the vehicle is up on the car lift of course, your technicians will need to be trained in all these new services, and you will need to purchase new tools and Automotive Equipment to service these advanced systems, but once they are, it means a new revenue stream for your garage.
We can't wait until cars are so advanced that we don't even have to pay attention when we drive. Just press a button and read the paper until we get to work.
March 8th, 2011
The Geneva Motor Show runs from March 3rd through 13th. It's been a staple in Europe for over 100 years. We realize that most Americans reading this post won't be able to attend, but it's still a very interesting look at some of the most imaginative, daring and creative concept cars that you will find, so it's worth a look. Personally, we would rather take a look at some of the earliest exhibits from the show's early days back around the original 1905 show. Imagine how all those spectators back then would marvel at the current crop of cars on display.
Some of the more notable exhibits would be the first Infinity hybrid car, the Jaguar sedan concept called the B99, the Rolls Royce Phantom Experimental Electric Car, Ferrari FF, Porche Cayenne Turbo and the BMW Vision Concept Car. Plus, they were even giving away a new Peugeot 308 car.
They are also pushing their "Green Vision" as well with more than 36 electric cars  which can even be driven. Expect this trend to accelerate in years to come. They'll even have some Automotive Equipment there as well, to display certain aspects of servicing these automobiles.
If you do get a chance to visit the show, send us a picture or two and tell us a little about it. We'd love to hear from you.
January 21st, 2011
Automobile Accidents can be a stressful event. The last thing you need to worry about after a car accident is fraud perpetrated by unscrupulous repair shops or tow truck drivers.
The NICB (National Insurance Crime Bureau) has recently put out a checklist to help the unwary accident victim from becoming a victim once again to these dishonest predators.
One of the most common occurrences would be a tow truck driver showing up immediately after you've gotten in an accident, without you calling them. They listen to police scanners and jump in their trucks the second they hear of an accident. They'll tell you they work with your insurance company and that they can take care of the repairs without you having to worry about finding a shop to pick it up. The problem is, you don't know anything about these guys.
The NICB warns that, while most shops and tow truck operators are honest and hardworking, there are plenty of nefarious operators out there who are just waiting to take advantage of this type of situation.
Once you've agreed to let them take your car, you can fall prey to all kinds of tricks. They will charge you fees for any and all kinds of things they can think up. Did they store your car in their lot? There's a storage fee. Did they put your car up on an Automotive Lift to inspect it?  Theres an inspection fee. Did they process any paperwork? There's a processing fee. Plus, they will do anything they can to get you to have them perform the service. If they towed your car to their lot, but you want your auto shop to perform the work, they will jack up their fees well beyond what is reasonable and customary.
This happened to me about a year ago after I got in an accident that caused a significant amount of damage to my truck. I had the tow truck driver bring it to his shop, with plans of having him transfer it to a different body shop later. Once he found out he wasn't doing the repairs, he got very angry and jacked up the fees to ridiculous levels. The insurance company said that this was not uncommon and that they would not pay such an unreasonable rate.
The NICB warns that if law enforcement did not call them to the scene, do not use the tow / wrecker company. Use the company the police recommend, or contact your own local shop. Even if it will take longer for them to get out to the scene to pick up your car, it will be worth it in the long run. You don't want to be paying for these rogue operators to outfit their garage with new Automotive Equipment because you were taken advantage of.
What about you? Have you had any similar experiences? Share them with us by commenting below.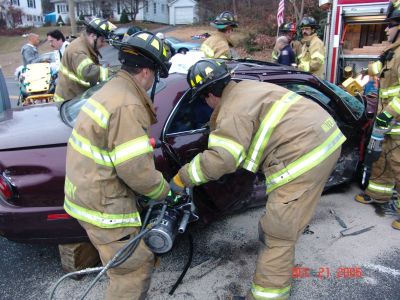 December 18th, 2010
If you attended the AAPEX or SEMA shows this past November, you already know how crowded it was. For those of you who did not, you missed a great event with lots of interesting vendors, manufacturers and products. And you missed some record crowds. Independent estimates of attendance well above 2009 levels, which were admittedly low, due to the economic downturn. Some estimates ranged from 10 to 30 % above the previous year's count.
A majority of attendees also indicated that they are beginning to see a turnaround in the economy as well. Many report sales figures up from 2008 and 2009 significantly, and when surveyed, a strong majority were optimistic and expect a significant increase in 2011. Which leads us to logically surmise that we have seen the worst and the light is at the end of the tunnel.
Besides the economy turning around, one other fact leading to optimism about the future is the trend of older vehicles remaining on the road longer. Anytime you have older cars on the road, you can expect to sell more parts and equipment necessary to repair it. This of course is good news for any company related to the service, parts or equipment industry.
Many of the national suppliers of automotive equipment that trade publicly have reported increased numbers for this year, and have increased their estimates for 2011. So have the national service chains.
As a distributor of Automotive Lifts and auto shop equipment, we also can quantify the anecdotal evidence with support of the theory that things are definitely improving. And that's good news for all of us.