Financing Your Automotive Equipment Has Never Been Easier
Financing your auto shop equipment purchase has never been easier with our very brief and simple application. And most customers are approved very quickly. Our financing partners not only offer extremely competitive rates, but can also get lower credit score customers approved where others cannot. So whether you're just buying just a single car lift, or outfitting an entire 6 bay garage, we can set you up. Qualifying applicants can get programs with no payments for 90 days, or even 0% interest programs for up to 6 months as well.
We have several options for financing, including 0% interest options. Just click on the banner below to view more details about the popular 6 months, 0 % interest program through PayPal Credit -

For business customers, just check out these finer points of financing below, and then click on the link to fill out our brief application below.


Financing Options - (for Qualified Applicants) -
Bad Credit
No Credit
Bill Me Later
0 % Programs For Up To 6 Months
No Payments For 90 Days
Business Financing
Individual / Personal
Approval in Minutes
Call Us For Details On Each Option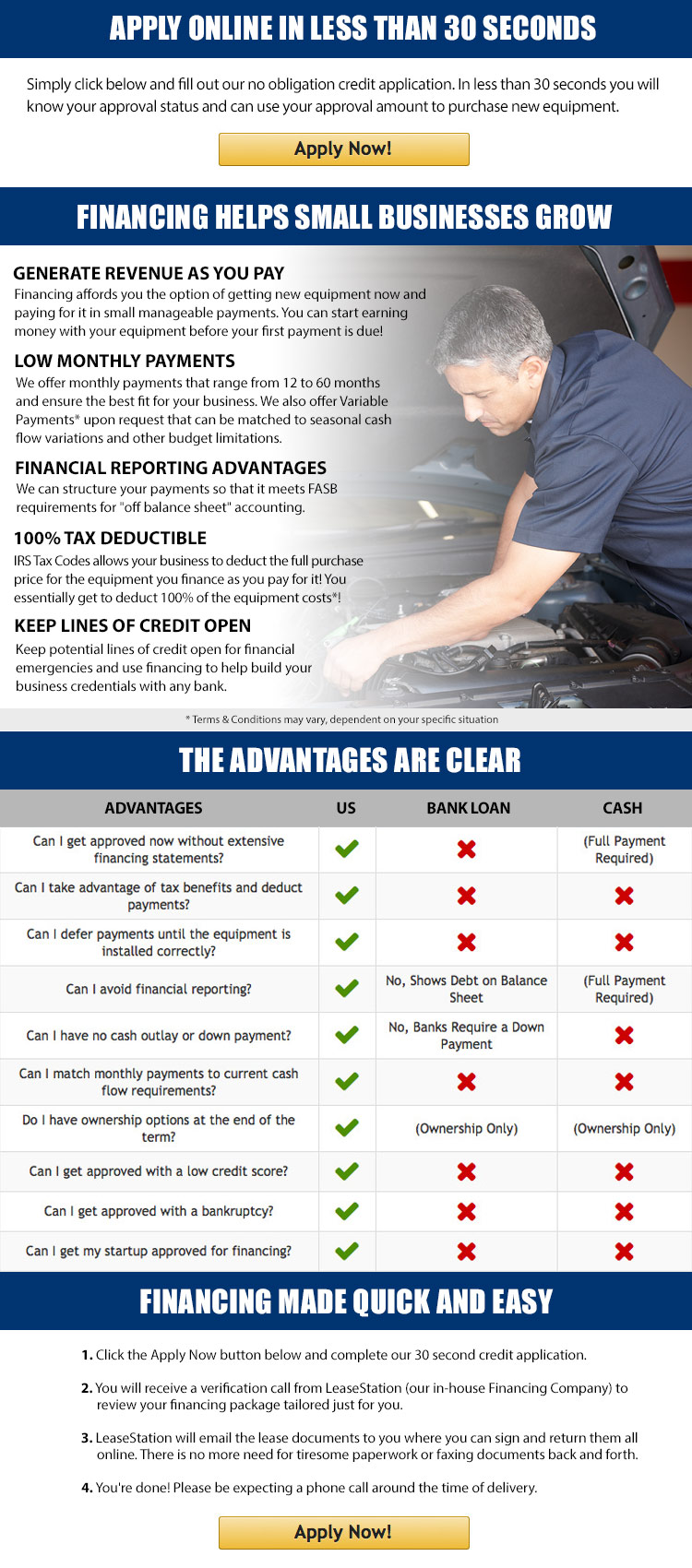 "I have attached three photo's of my new Bendpak XPR10A-168 car lift and does it ever work great.....it lifted my 1 ton dually like kid stuff.....didn't even groan. I am also very pleased with how quiet the hydraulic motor/pump system operates. Now I am much better able to take care of my company trucks and better utilize my time and do more flying the backcountry.....thanks again".

Other lifts might grunt and groan when raising such a vehicle, but not BendPak. As mentioned, the hydraulic pumps that BendPak uses on all their lifts are high quality models from premium manufacturers. High volume 2 HP motors on all of their 9 and 10,000 lb. capacity models. All seams are double seals and the hydraulic cylinders are second to none. They have fine polished and finished chrome steel rods and wipers to eliminate build up of dirt and debris that might cause marring of the surface. That's just a couple of reasons why they will hold up better over time.
Curtis E. Jones
Lake Havasu City, AZ