Financing Your Automotive Equipment Has Never Been Easier
Financing your auto shop equipment purchase has never been easier with our very brief and simple application. And most customers are approved very quickly. Our financing partners not only offer extremely competitive rates, but can also get lower credit score customers approved where others cannot. So whether you're just buying just a single car lift, or outfitting an entire 6 bay garage, we can set you up. Qualifying applicants can get programs with no payments for 90 days, or even 0% interest programs for up to 6 months as well.
We have several options for financing, including 0% interest options. Just click on the banner below to view more details about the popular 6 months, 0 % interest program through PayPal Credit -

For business customers, just check out these finer points of financing below, and then click on the link to fill out our brief application below.


Financing Options - (for Qualified Applicants) -
Bad Credit
No Credit
Bill Me Later
0 % Programs For Up To 6 Months
No Payments For 90 Days
Business Financing
Individual / Personal
Approval in Minutes
Call Us For Details On Each Option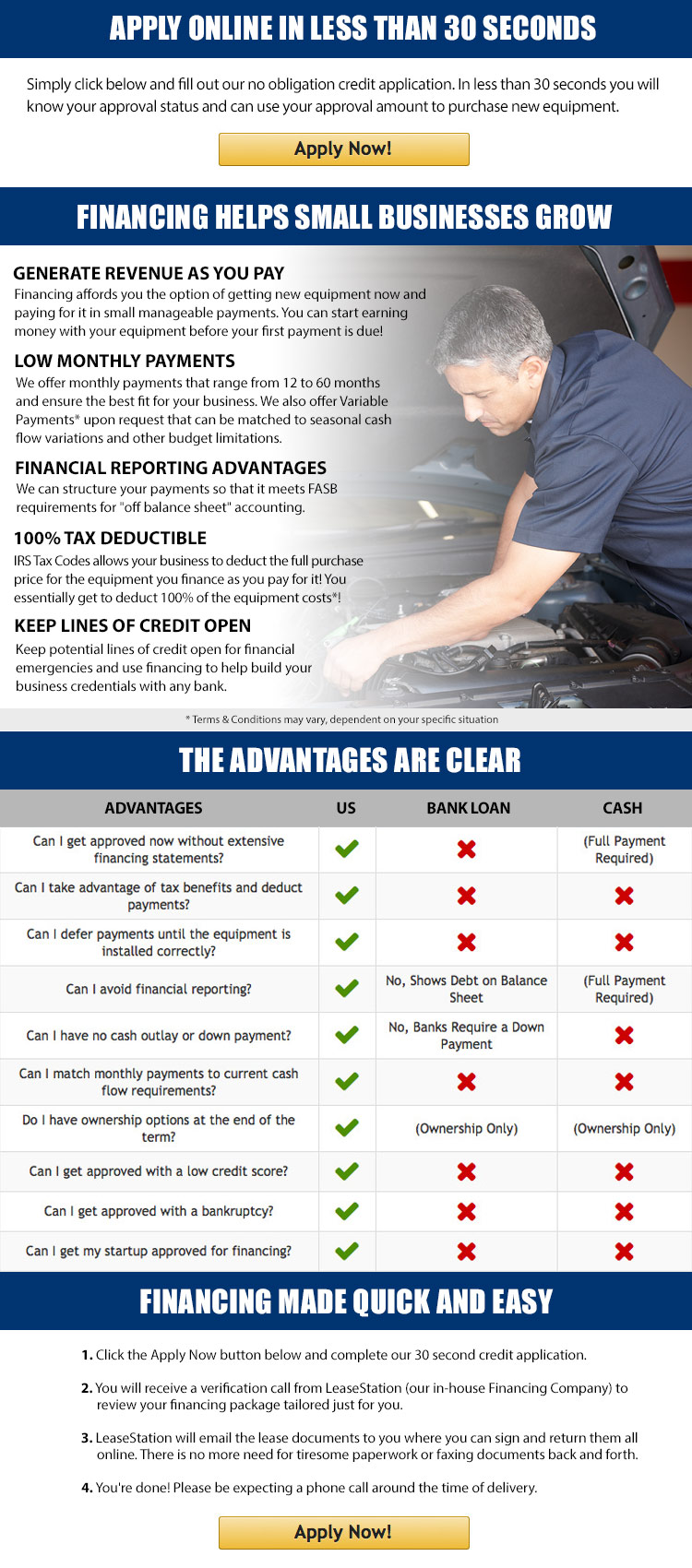 "It's OK to post these pictures to the website. I just wired all the lifts up this weekend and they are fully functional now. The installers you provided did a great job. The lifts are very well built and obviously made to last. You set us up right. Thanks a lot."
John Ferrari
Ocean City, MD

This customer purchased 3 lifts from us for his garage, mostly for servicing his considerable fleet of automobiles and trucks. He purchased the BendPak XPR-12 FD two post lift, which is the floor plate model with an open top (12,000 lb. capacity). He also got a BendPak XPR-10A-LP 2 post lift (10,000 lb. capacity) with low profile arms to reach far under low ground clearance sports cars. This is the asymmetric hoist, with the added capability of positioning the auto symmetric if necessary. Finally, the HDS-14X four post lift, which is a 14,000 lb. capacity rack. This hoist is not only great for cars, but because it's the extra long model, it's also ideal for those super long crew cab, long bed dual rear wheel trucks, that are typically too long for all those standard length four post lifts that you'll find out there. When you need to outfit your auto shop with multiple lifts, and you need to have them installed professionally, give us a call, and we will hook you up.
John Ferrari